Cosmetic Grade Gold Leaf Flake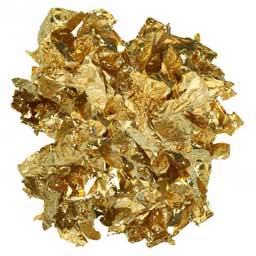 Preferred by cosmetics manufacturers, cosmetic grade gold is available in sheet/leaves and flake. It is commonly used in luxury creams and facial treatments.

Cosmetic Gold Leaf is made from extremely pure gold. Most gold leaf sold as 24k is 99% pure. Our cosmetic gold is sold as 99.9+% pure and has been lab tested as high as 99.993%. This means that harmful trace metals such as arsenic, mercury and lead are almost nonexistent. This makes it optimal for cosmetic products.
---
---
You may also be interested in these items...